June 28, 2009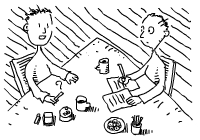 an interview by Igor Hardy.
In modern times great adventure games don't come in big shiny cardboard boxes and on multiple CDs. In fact very often they are just one click away from you in your internet browser.
Among some of the best of those are the works of Mateusz Skutnik of Pastel Games. His episodic adventure games resume consists of such well known series as Submachine and Daymare Town.
These games despite simple interfaces offer complex, creative puzzles in visually fascinating hand-drawn game worlds full of eerie atmosphere and a kind of surreal beauty.
Besides being a game designer Mateusz Skutnik is a highly regarded Polish graphic novel author. He is especially well known for his series Revolutions – the fifth book is coming shortly. Concurrently, on June the 17th in Polish cinemas has premiered a CG 3D animated short "Kinematograph" by Oscar-nominee Tomasz Bagiński which was based on one of one of the stories from Revolutions.
We are grateful to Skutnik for answering a few questions about his works for us.
____________________________________________________________________
Igor Hardy: Could you briefly introduce the Pastel Games team, tell us how you work together, and who and in what way is responsible for which game series?
Mateusz Skutnik: Pastel team was started by me and Karol Konwerski. Concerning our point and click escape/puzzle games –  Karol writes scenarios for 3 different series – the Fog Fall, the Great Escapes and Covert Front. Submachine and Daymare Town are completely done by myself. Later we started inviting more graphic artists, mostly Polish comic book artists to join our team and draw for us. And so it goes – Maciej Palka draws the Fog Fall series and Kamil Kochanski draws the Great Escapes. Besides those two we also have Barbara Jarosik on board, who writes scenarios and draws her own games, two so far – the Escape Artist and Charger Escape. She works on her third game right now. As I said – all games go through me where I polish them, add more puzzles or logic to the game, and program using my pnc engine developed throughout last 4 years.
IH: The Submachine series seems to have become your biggest and most recognized adventure game creation. How do you look at it now, after new episodes have been appearing for several years, and how did you see the project in the beginning?
MS: At the beginning, the project was a one-game only experiment. Didn't have a clue that it would gain such appreciation. So after the first one I was very pleased yet surprised by the responce, so the continuations followed. Right now series consists of 7 games with a lot of backstory included. With each game I reveal more and more. This series should go at least until Submachine 10. After that I dont know.
IH: How successful did you find the episodic format of releasing games in several concurrently running series? Do people complain a lot when they don't get a new episode of their favorite series for a longer time?
MS: Well yes, they do. But that's ok, that just means that they want that game badly. I've got only 3 series of my own – Submachine, Daymare Town and Covert Front – given one game yearly that gives me 4 months to develop each episode. That's more than enough, I dont have to rush things, and people recognize that in my games. Everything in its own time. That's why Covert Front 3 is taking so long right now. But once its done – it will be great, I promise.
IH: Your games receive a lot of feedback from players of your games and you have a devoted group of fans among them. What are the aspects of your games that you feel appeal to your audience the most?
MS: Every game is like a clock. Every piece has to fit perfectly in order to work. There are several aspects of each game taken into consideration, each one of the same value. Having said that, we are ready to create a good game. However – what is so appealing to the audience? atmosphere, logic, well thought puzzles, and most of all appreciate player's intelligence. It looks like I manage to do that in my games. Luckily.
IH: Given your background in comics and architecture how do you approach drawing and animating the environments in which you set your games?
MS: Given that background, I draw games as I draw comic books. Without sketches, what comes out of a drawing – stays there, I hardly ever make changes to what I've already drawn. Techniques are very different, comic books are mostly watercolours, here we have vector graphics in flash.
IH: Why did you choose photos instead of drawings as backgrounds for the 10 gnomes series?
MS: I always wanted to create a photo-based game. You know – less drawing, less trouble :D . But there was always an issue of on-stage elements that change. Switches, lights, evers etc. How to make that believable. Simple idea of a gnome-findng game hit the jackpot for me, you just look around and try to find hidden objects. The combination was perfect.
IH: Do the limitations of the Flash medium, especially the necessity to maintain small file sizes, produce any problems for you? Given opportunity would you be interested in giving your running series a rest for a while and focusing all efforts on creating a big budget, non-web browser-based game project with things like painting quality art, detailed animations, recorded speech for characters?
MS: Sure, given that the budget would allow me to toss everything else away and work on just that. But – flash games are not small, small file size is not a problem, right now we can make 10Mb games no problem, and these are long games.
IH: Could you tell us what it is your main interest in drawing, comic books and visual arts in general. Also, what happened that you started to create games at some point in your career?
MS: Don't have main interest. Or maybe I do – delivering a story. Whether through graphic novels, games or movies – no difference. What happened that I started creating games? Nothing happened. I just started.
IH: What kind of atmosphere and experiences do you seek yourself in other people's creations (games, art, fiction)?
MS: I don't seek. I just embrace what's coming. That regards to music, games and books. I've got my favorites, but can't say they inspired me.
IH: Being a very prolific adventure game creator how do you cope with amount of new puzzles that need to be constantly invented?
MS: Don't know. It's not the puzzle that starts the design. Usually I create environment, and then add a puzzle that fits into that setting. It comes naturally I guess.
IH: How do you compare the experience of playing adventure games (and games of other genres as well) to the experience of creating one's own?
MS: Incomparable. You can't compare making and consuming. Both are fun and trigger different emotions – that's for sure.
IH: Besides adventure games what other game genres does Pastel Games dabble in? Are there some special traits or design goals that connect all your company's games regardless of the different genres they belong to?
MS: We just opened our brand new iPhone division – those games will be completely different from what we do best on the internet. Mostly action, platform and skill games. No, there is no pattern connecting all the games. They're far too different from each other to try to introduce something like that. Take Submachine and Daymare Town for example. Impossible to connect.
IH: Speaking of  iPhone, what new opportunities and/or challenges does this popular platform provide? Does the iPhone audience differ in their expectations from the people who play your games on their internet browsers?
MS: That's a completely different target group, different background and age. We will be trying to understand the differences and create games that appeal to that audience. Maybe we will succeed. That's a biggest unknown right now for Pastel Games.
IH: Recently Pastel Games released a new adventure game The Scene of The Crime that gives the player more detective work like challenges than traditional puzzles. Does it take a different approach to create this kind of gameplay? Is it a beginning of a longer series?
MS: It's a bit different approach mostly because the plot is non linear. There's no given path in which you have to discover objects – like in all other pnc games – here you can find different items in different order and the story still has to make sense. that's a bit more difficult to achieve than creating a regular point and click. About longer series – we'll see. if this game creates a buzz, then maybe. But right now I'm not into creating new series, while my main game series suffer from lack of new episodes. I want to revive Covert Front, Submachine and Daymare Town and maybe then think about possible new series.
IH: Can you share of your plans for game releases in the next months, or at least give a few hints about what new surprises can we expect from Pastel Games?
MS: Covert Front in June or July, then Submachine 6 which should take around 3 months to finish, so around October, November, and then Daymare Town before the end of the year. That's my plan for my games. What will pop up in the meantime from other Pastel Games creators is a big unknown for now.
IH: Let's step out of the gaming topics for a brief moment… A short animated movie Kinematograph by Tomasz Bagiński based on a story from your Revolutions is just having its premiere. However, the style of the art in the movie is very different from your graphic novel. From a brief chat I was fortunate to have with Tomasz Bagiński recently I learned that he was given free hand with his vision and interpretation. How does it feel to have your own story reinvented for such a high-budget production that took many years to conceptualize and complete? Will the release of the movie help you to publish your graphic novels internationally?
MS: Honestly don't know. Comic books are a tough item to sell and if anything would help – it's that movie. About the reinventing – the story  isn't reinvented – it's an exact copy of the comic book scenario with additional minor changes, only the graphic side is changed. And for the better. Original comic graphics are more artistic than commercial, and the movie took more open approach to wide audience. The movie in its present form is acceptable for the mass viewer. If it resembled original comic characters it would be just eyebrow rising.
IH: What advice would you give to fans who inspired by your adventure games would like to create games of their own with similar strange, escapist worlds ?
MS: No advice. Anything I might say to someone who's about to start creating games would be useless. On the practical side? nothing more that dozens of online tutorials have to offer. On the artistic side? Nothing to say. Everyone has to evaluate this on his own. It's simple as that. You cannot be taught how to create a game. You have to feel it and learn it on your own.
IH: Thank you very much for the interview. We wish you best of luck with your future work and an expanding group of fans.