January 18, 2018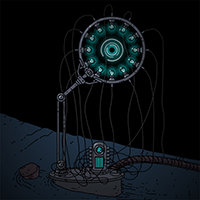 1. At the ends of Submachine 10 and Submachine Universe, the Player ends up in a desert. What is the significance of this place for people like Murtaugh and Elizabeth, and where is it located with respect to the rest of the Submachine? Is it a foreign planet, as it appears, or is this an alternate Earth?
The desert is located on Earth, it's just another layer of reality, as those layers span over entire universe, so you can get a planet set in different layers having different characteristics, like atmosphere or number of moons. This explains green hue and two moons in this particular instance.
2. Where is the Edge located exactly? Is it a wall between the Core and the Outer Rim, or is it surrounding the Outer Rim? Or both things are true, and we travel to the outer part to disable the inner part's defences? How does one explain the human infestation map in Submachine 6?
The Edge was evolving with the expansion of the subnet. It was firstly created as a measure of defence for the core, but then was expanded to cover more and more ground regarding expanding nature of the entire subnet. Yes, we travel between different parts / rings of defences. Infestation map was created by artificial intelligence.