January 8, 2019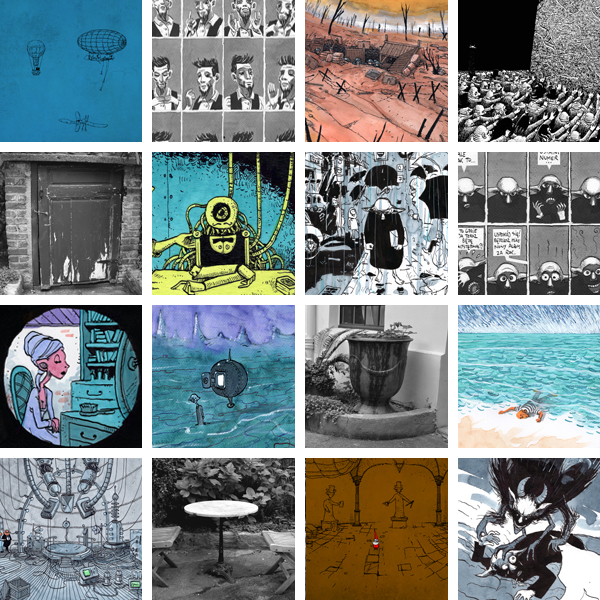 Ok, let's do this, by now you know the drill.
Plan A
The Game. Further development of the game. Let's pinpoint: merging two engines into one, thus creating final base of development. Evaluating the main character of the game. Creating side characters, and lots of them. Sketching out locations. Creating environmental puzzles, as well as classic point and click ones. Trying to find final "look and feel" of the game. And so on. Do you feel it coming? I do.
Yes, I still feel it coming, even more so than a year ago. Merging two engines – done, you'll walk around and interact as in ordinary point and click. Evaluating the main character – yes, we have the Seaweed, his story, his character arc, everything. Even though you might have seen him in action already – his graphics and animations will be completely redone to match the style of the game. Creating characters – yes, you'll encounter different creatures from Daymare Town and my comic book – Morphs, of which there are tons of them, as well as Revolutions. Sketching out locations – well, kind of. They're sketched inside my head. Does it count? Creating puzzles – those are also inside my head. But it's a good place, don't worry.  Trying to find final look and feel – well, still working on it. This one is tricky, because with this game I'm going not only with something I've never done before, I also want to change the workflow a bit. Creating locations and then adding more to them, more layers of interactivity and animation. Previously I was drawing games the same way I drew my comics – once the drawing is done, it's done. This time – not so much. Things will be perfected over time.
Revolutions 11: Apocrypha. The series marches on, strong as ever, into it's second phase. This time it'll be a round up of older stories released in different magazines and anthologies, put together for closure reasons as well as new stories written by Polish best comic book writers that I managed to deceive into thinking writing for me was worth their time. All those new stories will be painted and streamed on twitch.tv this year as Ink Companion season 2.
This one was more time consuming then I expected. You see, the 'older stories' part of it had around 40 pages. I thought I'd add few new stories from my fellow authors and be done with it. However, I kind went overboard a little bit with gathering those additional stories. There were just too many good authors I wanted to invite. All in all, I ended up creating additional 100 pages for the book. Which is good and bad. Good – because you got a bigger, better book, bad – because it took too long to finish. But that created another piece of big news for you, more on that below. The book is here.
Plan B
10 Gnomes in Paris. Yes, Paris. It's already shot and partly done. I want to release it before summer break, so expect it late June. Let's say… June 20th. This time I can make that prediction with a certainty. Let's see what will happen now that I've said this. Stupid, stupid me…
And June 20th it was! I wasn't so stupid afterall… Ok, I'll share a little secret with you. The game was ready long before that. Just sitting there on my drive waiting to be released. I know, I know, I'm a cheeky bastard. That's a first, by the way. The fact that one of my games were finished long before the release. That actually never happened before. You can find this game here.
Where is 2019? Well, what a surprise, right? As I still want to make it a bigger game than before, let's shoot for… let me think… 12 screens of content, ok? Let's not overthink it for now. Santa returns, as he's the character where it all started 10 years ago.
Sure, of course, you just played it like a week ago, right? And, uhm… 12 screens of content? It's actually bigger than that! Pwned, me from a year ago. Take that! How big is this game? Well, you can count all the screens here.
VormkfasA #60, the final issue. [This is the festival xerox zine that I give away to people who meet me during comic festivals]. Yes, all things must end. I seem to be killing more and more of my old projects each year. Last time it was the Morphs, now this. I'm ending it here because I wanted this run to last for as long as the first run lasted, seven issues. And as it rounds up nicely to overall 60 issues, this is the good point to let it go.
Yes, that's done now. After finishing all side game development projects, I moved to wrapping up my comic book side projects. Between this and that Rewolucje anthology I was talking about just now things are pretty wrapped up by now. More on this below. You can take a look at the final isue of VormkfasA here.
Plan C
streaming on twitch.tv. As I mentioned before, I found a new home on twitch. A new little corner where I can sit and share my things with you. I'm not expecting it to bring any money or fame as I am realistic about how many people might be interested in watching some old-fart draw live, but I genuinely just like doing it. And that's a good sign. I'll create my new comic book here and also parts of the game, those not-spoilery ones. Let's shoot for, I dunno, 200 followers in 2018. And I promise to talk more.
Yes, stream I did. Even somewhat regularly. But by now I feel that I've shown everything that I could show you on my streams, different styles of drawing, painting and what not. The career of a streamer didn't take off and therefore it's on a hold for now. Mostly because of me focusing on the development of the big game, which can't be streamed, because spoilers. You can check my entire 2018 twitch adventure here.
Linux versions of my games. Last year I tackled OS X, Linux MUST be simpler, right? Right?… Guys?…
Sure, simple enough. It however was a completely new beehive to kick and stir up. You see, at least OS X is complicated but a single endeavour. With Linux? There are so many versions, and Game Maker covers only one of them. But yes, Linux versions of my games are somewhat available, arguably, not sure, but you can find them here. And here's the troubleshoot.
I think this is it. This to-do list seems shorter than before, but hey, we're focusing here on the game. Joking around is over. Now is the time to shut up and just DO IT.
Oh lol. You thought this to-do list was short, me from a year ago? Wait until you see this year's list. Speaking of…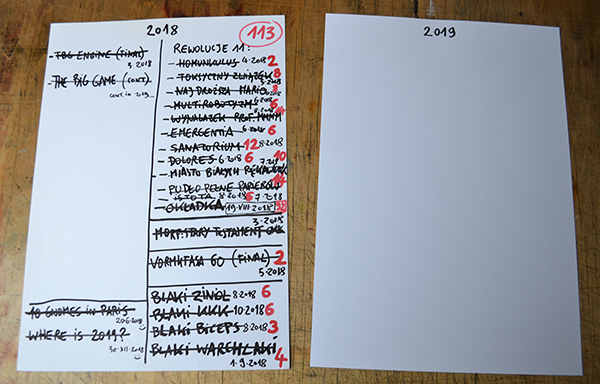 Plan A
the – Big – Game
I think there's nothing more to say here. I don't want to dwelve on the specifics and milestones, but the plan is to actually finish and release the game this year. Oh, and I also plan to reveal the actual name of the game this year as we go along. Not sure how to do it yet, I'll probably create a video with the reveal. But not sure when to do it. I think I'll keep it secret until I have a feature-complete build on my hands. I'm also falling into the feature creep a bit, which is scary. I'll just have to say "enough!" at some point, and I'm bad at it. The same thing happened with 'Where is 2019?'. If not for the December deadline I'd just be adding more and more to this game. But here it is, THE plan for 2019. There's almost nothing else on my mind right now. The focus is set, engines are being revved and the countdown to liftoff already begun.
Plan B
Please note that I'm doing these two projects only because they're the only recurring series left. Me, being kind of obsessively addicted to completing unfinished projects, I just can't let them go. At least 10 Gnomes have a proper finish line on the horizon, so there's a light at the end of this tunnel.
10 Gnomes in Oristano. I know what you're thinking. You're thinking: Hold on now, you cheeky bastard, is the game already done and you're just witholding it from us? Like the one in Paris? Well, not entirely. It's like 85% ready. The locations are done, the gnomes are not. I'm shooting for June or July release. Probably July.
Where is 2020? We'll continue the adventure of Santa, we'll find out what happens after he met Seaweed and move forward the narrative. Some of you are asking for a point and click gameplay to return in this series. We'll see.
Plan C
So here's the thing. There is no plan C. And this is kind of big news. It's also the testament of how much I want to focus on the big game. This year, for the first time since… Let me think… 2003?… So for the first time since 16 years I'm not doing a new comic book. The streak ends here. I'm diving straight into the big game right now in January and don't expect to surface until the release. There's just no time to be spared for a comic book. Here we loop back to the issue of Rewolucje 11 being too big and taking too long to finish in 2018. It took away some of that precious development time. Too much of it to be honest. At this point, I don't care much about keeping the streak of publishing one book per year alive anymore. All that matters is the big game. Nothing else. Maybe I'm just hyper-focusing on the game, or maybe I'm just getting old and a bit tired of comic books. Who knows. Let's get back to this subject next January.
And with that I leave you.
See you next year for another wrap-up, which will be completely different if everything goes according to plan. Fingers crossed.
We'll finally have answers to some big questions that I dare not to ask at this point.
Anyway, back to work.