April 24, 2015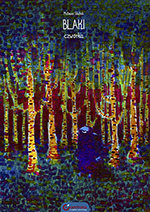 Blacky: Four of Us – Centrala Present Polish Creator Mateusz Skutnik's Meandering Meditations on the Minutiae of Existence.
Polish creator's Mateusz Skutnik's Blacky: Four of Us may feature a central character with an eerily supernatural-looking visual aesthetic – part Uncle Fester from The Addams Family and part Count Orlok from Nosferatu perhaps – but, make no mistake, despite the slightly gothic trappings of its protagonist, and its sidesteps into surrealism, this is very much a piece of slife-of-life comics storytelling that will have its readership grinning knowingly in their empathic responses to the titular Blacky's ruminations on the minutiae of reality.
Published by Centrala, Blacky: Four of Us is a loosely connected series of existential observations on the world around us as seen by the philosophical Blacky; a character one suspects may be an on-page avatar for Skutnik himself, removed one step from obvious intrusive authorial presence. Sometimes something of a grouch, on other occasions just wearily resigned, this odd little fellow still retains the audience's sympathy as he struggles to deal with his day-to-day routine working from home and dealing with everyday family life.
What Skutnik presents here is not so much a narrative but a procession of meandering considerations on the peculiarities and all-consuming trivialities of the human condition, imbued throughout with a dry and deadpan wit. The enabling properties of repetitive housework in stimulating abstract thought, the pointless rituals surrounding death, the desperately craved for but unconsumed cup of coffee lying forgotten on your workspace, the social niceties to be observed when having your hair cut… these are the kinds of resonant topics that Blacky reflects on in the course of the book's 60-odd pages.
It's all rather self-referential and borderline meta, never really going anywhere in the direction of an overarching storyline or providing any real natural conclusions to the questions raised. Yet these wandering soliloquies on both the tiniest and the most profound moments of modern living are bleakly endearing in their delivery. Skutnik's dark, dense panels evoke a sense of a twilight nether realm and yet are also firmly grounded in a recognisable reality of their own while the Blacky persona also embraces this odd thematic duality, his face forever draped in shadow yet his expressions somehow all the more communicative for it.
Framing the mundane and the ordinary in the fantastic and the slightly macabre, Blacky: The Four of Us provides us with one of comics' oddest everyperson characters in possibly one of the strangest autobio-style comics you are likely to read. A standout offering from Centrala that will have you avidly investigating the rest of the European material in their back catalogue.
Andy Oliver