January 2, 2022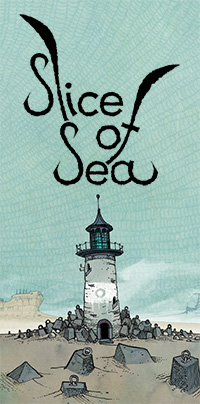 Please introduce yourself.
My name is Mateusz Skutnik, I create games, mostly in the adventure puzzle point and click genre. I'm also a comic book writer and artist, and those two branches of my creativity just met in my newest game, Slice of Sea.
What is your most favorite PC/video game?
I think if I had to pick just one… It would be Journey by ThatGameCompany. This is the shining example why games can be real art.
Why did you start developing this game?
I was creating games for 15 years in Adobe Flash, and once they decided to end Flash support I moved to another game engine in 2016. This allowed me to create a game for Steam, which meant I had to pull all my strength and abilities together to create something unique for my Steam debut.
What is/are interesting/unique in the game?
This game in it's entirety was drawn on paper using ink and nib. It took me 4 years to finish creating the game (2018-2021).
Uniqueness comes from my comic book drawing style, just take a look.
Whom would you like to play this game?
People who like adventure games and solving puzzles. This is a point and click game with a slight twist in that you use keyboard to move game's main character and mouse to solve puzzles.
What kind of people is your target?
Anyone with a keen eye for unique graphical design, strange worlds and even stranger creatures. I know my games are played by people of all ages, from small children up to 70 year-olds.
Is the game inspired by any other games/movies/etc.?
The game is derived from all my previous works. My other game series – Submachine, Daymare Town, and my comic book series: Revolutions, Blacky, Morphs…
I just took everything good I created in the past and smashed it all together to create this game.
(If not yet) Do you have a plan to support the Japanese language? If you accept fan translation, who should we contact?
Japanese is already supported. You can change language in the main menu settings.
Has COVID-19 affected the development?
Not really, since I've been working at home since 2009. I also work alone, almost entire game, with the exception of music is done by me personally.
Is it okay to stream the game and monetize it? (on YouTube, Twitch, etc.)
Yes, of course!
Please leave a message for Japanese readers.
Hi guys. You can play my game in Japanese, and in my opinion Japanese version looks the best of all languages, mostly thanks to Kanji font used in the game, it matches the drawn and inked spirit of the game.
~~~~
ポイント&クリックパズルADV『Slice of Sea』―ペンとインクで描かれたグラフィックで4年の歳月をかけて完成【開発者インタビュー】
気になる新作インディーゲームの開発者にインタビューする本企画。今回は、Mateusz Skutnik氏開発、PC/Mac向けに11月11日にリリースされたポイント&クリックパズルアドベンチャー『Slice of Sea』開発者へのミニインタビューをお届けします。
本作は、プレイヤーが海の生き物「シーウィード」となってプレイするポイント&クリックパズルアドベンチャー。アイテムを集め、パズルを解き、シーウィードを故郷の海へと戻してあげるのが目標です。すべて手描きのグラフィックが特徴。日本語にも対応済みです。
――まずは自己紹介をお願いします。一番好きなゲームは何ですか?
Mateusz Skutnik氏(以下Mateusz)主にポイント&クリックパズルアドベンチャーといったゲームを作っている、Mateusz Skutnikです。私は漫画家でもありアーティストでもあります。これら2つのクリエイティビティが出会い誕生したのが、本作なのです。
もし好きなゲームを一本選ばなければいけないとすれば…thatgamecompanyの『風ノ旅ビト』ですね。ゲームが本物の芸術になり得るという、素晴らしい見本だと思います。
――本作の開発はなぜ始めたのですか?
Mateusz私はAdobe Flashを使って15年間ゲームを作っていました。そしてFlashのサポートが終わることが決定すると、2016年、私は別のゲームエンジンに移ることとしたのです。これにより、Steam向けのゲームが作れるようになりました。と言うことで、Steamでのデビューに向け、私は自分の持つあらゆる強みと能力を結集させることとしたのです。
――本作の特徴を教えてください。
Mateusz本作のグラフィックはすべて紙の上にペンとインクで描かれています。完成までに4年(2018年~2021年)かかりました。特徴は、私の漫画を描くスタイルそのものに出ているでしょう。ぜひその目でご覧ください。
――本作はどんな人にプレイしてもらいたいですか?
Mateuszアドベンチャーゲームとパズルを解くのが好きな人に遊んでもらいたいですね。本作はポイント&クリックゲームですが、キーボードを使ってメインキャラクターを操作し、マウスでパズルを解く、と言うひねりが加えられています。
また、ユニークなデザインや奇妙な世界観、そしてより変なクリーチャーたちに興味がある人にも遊んでいただきたいです。本作は、小さな子供から70年代の方まで、あらゆる歳の方たちに遊んでいただいています。
――本作が影響を受けた作品はありますか?
Mateusz本作は私の今までの作品すべてを起源としています。私の作ったゲームシリーズである『Submachine』『Daymare Town』、漫画シリーズだと「Revolutions」「Blacky」「Morphs」などですね。過去に作って良かった物を集めてくっつけ、本作を作ったのです。
――新型コロナウイルスによる開発への影響はありましたか?
Mateusz2009年から自宅で作業をしているので、影響はそれほどありませんでした。また、私は自分の作ったほぼすべてのゲームにおいて、音楽以外はすべて私1人で完成させています。
――本作の配信や収益化はしても大丈夫ですか?
Mateuszはい、もちろんです!
――最後に日本の読者にメッセージをお願いします。
Mateuszみなさん、こんにちは。本作は日本語でもプレイ可能です。私の個人的な意見になりますが、本作は日本語版が他のあらゆる言語よりも綺麗に見えると思っています。おそらく本作内で使われている漢字のフォントのおかげですね。本作のグラフィックにまさにぴったりなのです。楽しんでください!
――ありがとうございました。
[source]