January 12, 2018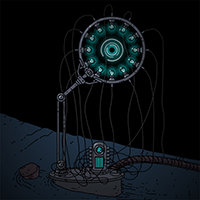 Ok, o submaszynie wspominałem już wielokrotnie. Ok, pisywałem już jak mnie wciągała niejednokrotnie na długie chwile. Ale akurat ta gra jest warta każdego poświęconego jej słowa. Tym bardziej, że jest pewna okazja.
Grudniowy update Subnetu.
No to trochę jakby się świat przeładował raz jeszcze i się bugi wyprostowały. (Nie mam nic przeciw meandrom Bugu).
Ale co to jest Subnet i co oznacza jego update? Cóż nie zamierzam odpowiadać na to pytanie wprost. Opowiem zamiast tego o submaszynie. Seria gier Submachine opowiada historię (w zasadzie historie) ludzi zagubionych w Subnecie. Nie opowiada przy tym za bardzo, czym jest sam Subnet, albo dlaczego ci ludzie tam się zagubili. Gra polega na ucieczce z tegoż. To taki escape game jakich wiele w sieci, tylko że… nie. Jest całkiem inny.